A Short Biography of His Holiness the 101th Ganden Tripa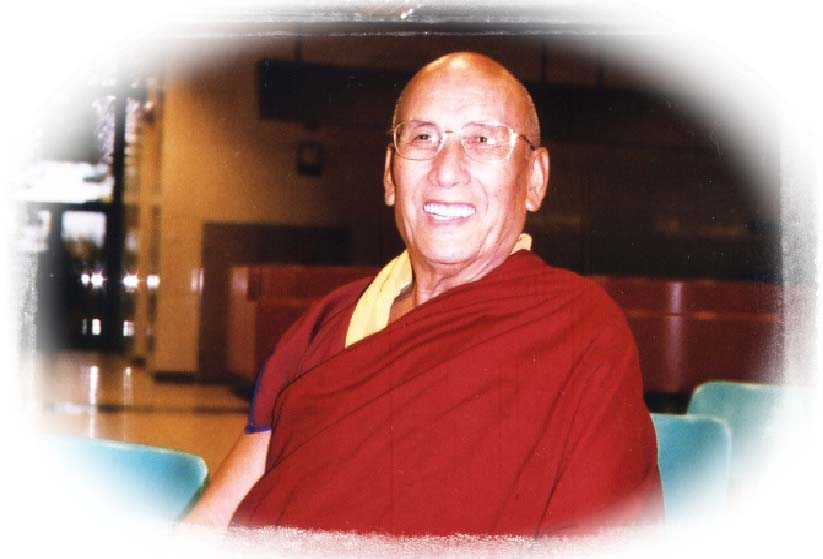 Born in Tibet in 1927, Rimpoche acquired after forty years of study the title and degrees of Geshe Lharampa (Doctor in Buddhist Philosophy, of the Highest Rank) and of Geshe Ngarampa (specialist of Tantras). The achievement of this double curriculum, which allies erudition and intense meditative practice, have made of him, one of the best qualified living Buddhist teachers. On these grounds, Rimpoche was sent by His Holiness The Dalai-Lama as envoy representing Buddhism at the oecumenical Assisi meetings convened on the initiative of HH the Pope John-Paul II in 1986 in Italy.
In 1983, His Holiness The Dalai Lama chose him as Abbot of the Tantric University of Gyutö, and then nine years later as Abbot of Ganden Shartsé monastery, one of the major gelugpa monasteries.
In 1995, Rinpoche was also elevated at the honorary rank of Shartse Chöje, and became therefore the second dignitary in rank of the Gelugpa school. In early 2003 His Holiness the Dalai Lama elevated him at the highest position in the Gelugpa school, that of Ganden Tripa (litteraly the Holder of the Throne of Tushita). That position makes its owner the supreme spiritual head of the Gelug lineage founded by Dje Tsong Khapa, the great saint-yogi-pandit. The Gelug lineage is the most widespread in Tibet; the major monasteries of Ganden, Drepung and Sera as well as the famed Tantric Colleges of Gyutö and Gyumed all belong to that school. (Note that contrary to widespread belief, HH The Dalai lama does not head the Gelugpa school, although he is the spiritual head of all Tibetan Buddhists.)
Rimpoche lives now in Paris, France, where he teaches Buddhist practice and philosophy, at the center he founded in 1980, Thar Deu Ling.
His Holiness's biography above is as quoted from Thar Deu Ling –
HH the 101th Ganden Tripa's Buddhist center in France:
http://www.geocities.com/thardeuling/bio-us.html